We have been providing high quality name badges for 25 years. We provide excellent service at a fair price. Just For You offers the option to provide name badges with your company logo. What we need from you is camera-ready art work. From this we can provide you with several different layouts for you to select.
Once a decision has been made on which layout you want to go with, a di will be created (there is a one-time $75.00 charge for the di). Another option is to not include your logo, but to put your company name in block letters at the bottom and the persons name in larger print at the top (this eliminates the additional charge for the id).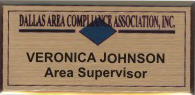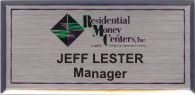 We also offer photo ID badges. For the ID badges you need to email photo's of your employees, names, title or hire dates. We have three types of holders for the name badges…
1.Magnet (for thin clothing)
2.Stick Pin (great for sweaters and heavy coats/jackets)
3.Tuck Pocket (for suit and sports coats)
** We offer any of the styles in brushed gold or silver.
Let us show you how fast and easy it is to provide your company with a high-quality name tag by ordering today!